June 2, 2004
9:24pm

12 minutes apart, lasting 20 seconds; better wait for a few more to be sure

10:35pm

midwife arrives; we're sure – things are happening, but not truly "active" yet.
11:15pm

every five minutes, lasting about a minute; getting stronger

11:50pm

slowing down, about 4-5 minutes apart; some strong, some weak; trying to get some sleep
June 3, 2004
12:45am

need to check what's going on – sounds quiet up there

4:00am

that was some nap; nothing happening. nothing. hello? any time now…

5:45am

seems things are starting up again; feels like we're starting from nothing again; big sisters will be waking up soon; could be a rough morning…

6:10am

midwife has left; not far enough along yet; sad.

10:10am

calling midwife; strong contractions, stronger than before…

11:15am

midwife here (again); stronger contractions, every 3 minutes;

11:45am

getting the pool ready; strong strong contractions

11:50am

starting to push; this shouldn't take long…

12:12pm

it's a boy!!!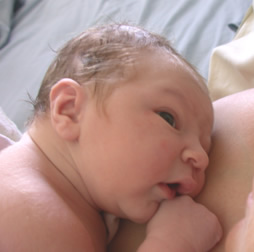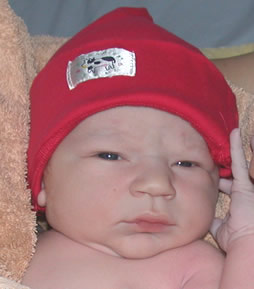 ---
We are pleased to present Kampbell Anthony Frazer Featherstone – born 12:12pm June 3, 2004. Weighing in at 8 pounds 14 ounces, and 21 inches in length. He is healthy, mother Kathryn is doing very well, and his big sisters Kaitlyn and Kyla are being extremely helpful!
Note that he is currently full standards compliant and very accessible, and is already working hard at separating his contents from his presentation…
23 Responses