Time to document a few things that I find really useful in FireFox – still my browser of choice, even now that I'm on a Mac and not Windows (actually, I do still use Windows for certain things, and I do a lot of testing via Parallels so I'm not completely on a Mac).
Note that I describe these with Cmd, but you can use Ctrl for Windows machines. I assume these features also work on Linux based version of Firefox, but I'll leave it to someone else to confirm.
Switching search engines
Cmd + K puts me in the search box in Firefox. Once I'm there, Cmd + down/up arrows lets me change the search engine. Type in my query, hit enter, done.
Cmd clicking
I use Cmd + click to open links in a new tab all the time. Did you know that as a keyboard user, you can use Cmd + Enter to do the same?
And here's my favourite: you can use Cmd and click on the forward and back buttons to open pages from your history in a new tab. That includes both the buttons themselves and the histories that you see when you click and hold the mouse button to reveal the other items in your history. Try it – you'll like it.
Incredibly handy if you forget to open a media file of some sort in a new tab – in that case you want to go back, but still allow the file to continue to open without disruption.
This also works on items in your sidebar like bookmarks or your full history.
Table cell selection
This is my favourite:
Cmd + click a cell to select/deselect it
Cmd + click other cells to select them as well, noting that the first cell is still selected
select one cell with Cmd + click and then do a Shift + Cmd + click on another cell to select the range of cells between the first selected and the one you just clicked on
When you copy and paste your selection you get tab-delimited output. When you copy and paste this way linefeeds aren't respected – one small disadvantage over doing a drag select. If you want to select single or adjacent columns of data without selecting the entire table this is your only way to do it.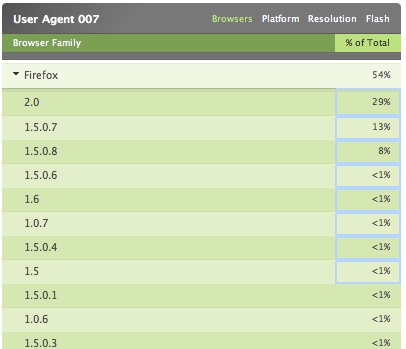 There you have it – look for more power moves for other browsers coming soon.
Technorati Tags: Firefox, keystrokes
17 Responses